About Us
Dr Tegbir Singh Sidhu [MBBS, MD, DMRD] is an internationally trained, immensely experienced Interventional Radiologist with more than 14 years of experience. He completed his training in IR at various renowned hospitals in India, S. Korea and Centers of excellence in Europe. He is practicing Interventional Radiology at Minimal Invasive Non-Surgical Technique Clinic (MINT) Max Super Speciality Hospital.
Interventional Radiology (IR) is a super-specialty of radiology that provides image-guided, minimally invasive diagnosis, and precise treatment without major surgery.
Dr. Tegbir S. Sidhu has vast experience in Interventional Radiology and is one of the top doctors in Chandigarh. He uses Interventional techniques for treating different diseases that involve effectively any part of the body. Using the latest technological innovations, he has experience treating with Laser/Radio Frequency/Microwave Ablation Technologies and Nano Technology - Radiation Eluting Beads. His area of expertise is Liver cancer interventions and has delivered optimal results with minimal risk.
Read more
What does an interventional radiologist do?
It is an image-guided minimally invasive procedures and periprocedural patient care to diagnose and treat benign and malignant conditions of the thorax, abdomen, pelves, and extremities. IR is used to perform a wide range or procedures, including:
☞

Angioplasty and Stent Insertion

☞

Ascitic Tap

☞

Biliary Drainage

☞

Bursal Injection

☞

Carotid Stenting

☞

Carpal Tunnel Ultrasound and Injection

☞

Image Guided Cervical Nerve Root Sleeve Corticosteroid Injection

☞

Image Guided Liver Biopsy

☞

Image Guided Lumbar Epidural Corticosteroid Injection

☞

Image guided lumbar nerve root sleeve injection

☞

Inferior Vena Cava Filters

☞

Joint Injection

☞

Nephrostomy

☞

Pleural Aspiration

☞

Radiofrequency Ablation

☞

SAH Vasospasm Endovascular Treatment

☞

Selective Internal Radiation Therapy [SIRT]: SIR-Spheres®

☞

Spinal Cord Embolisation (AVM/DAVF)

☞

Thyroid fine needle aspiration (FNA)

☞

Transarterial Chemoembolisation (TACE)

☞

Uterine Fibroid Embolisation

☞

Varicose Vein Ablation

☞

Vascular Closure Devices

☞

Venous Access

☞

Vertebroplasty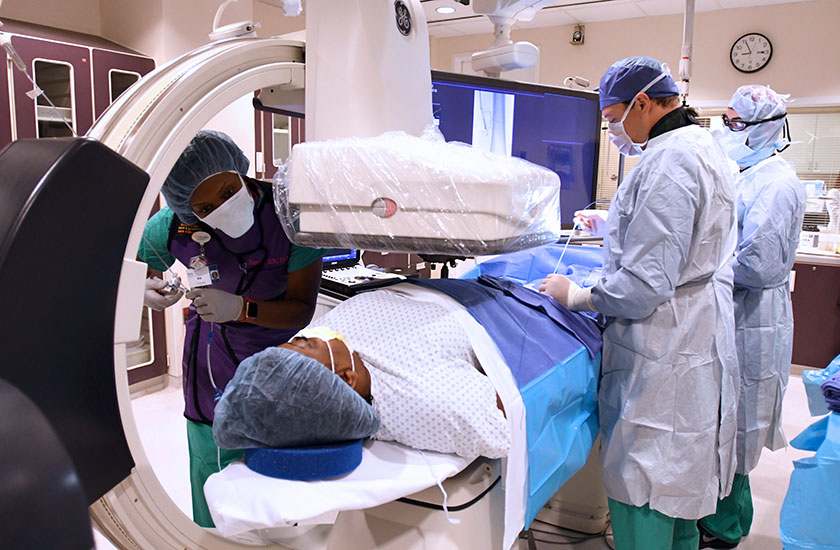 Frequently Asked Questions
The radiologist's role is to assist other specialists in diagnosing or confirming suspected clinical conditions, using X-rays, Ultrasound, Mammograms, CT Scans, and MRI scans.
The essential skills of an interventional radiologist are in diagnostic image interpretation and the manipulation of needles and the use of fine catheter tubes and wires to navigate around the body under imaging control. Interventional radiologists are doctors who are trained in radiology and interventional therapy. No other specialty possesses this unique combination of skills!
Interventional radiology is used to treat diseases (such as cancers, liver or bile duct diseases, uterine fibroids, peripheral vascular diseases, and disorders of circulation), perform biopsies, and carry out pain-relieving procedures with minimally invasive techniques.
Our Posts